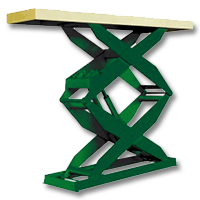 There are a number of models and options available when looking for the right lift table. Southworth Lift Tables are extremely rugged and reliable machines. They are available in many basic sizes and capacities to lift and position loads from 500 to 6,000 lbs. A wide range of power options, controls, tabletops and base configurations can be specified to accommodate your needs.
Quality Features for Reliable Performance
Contoured Legs
With extra width at the pivot point, Southworth's contoured legs combine great strength with lower collapsed height.
Lubricated for Life Bushings
All pivot points have hardened pins that operate in lubricated-for-life, virtually maintenance-free bushings.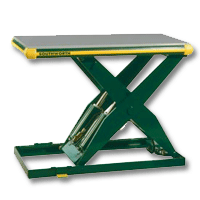 Heavy Duty Hoses
All Southworth lifts have heavy-duty hoses with burst strength 600% greater than the hydraulic operation pressure.
Oversize, Low-Pressure Hydraulic Cylinders
Low operating pressure extends the lift of hydraulic components. Chrome-plated piston rods are corrosion resistant, and cylinder walls are honed.
Built In Safety Chock
Prevents accidental lowering of table during maintenance.
Comfort Edge Design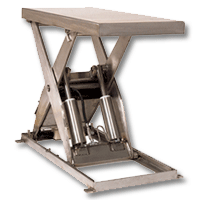 No sharp corners on table top. Bright safety yellow stripe for high visibility.

Heavy-Duty Torque Tubes
Torque tubes minimize platform twisting and deflection for high degree of rigidity and stability.
Tell-Tale Return Hydraulic Fluid Line
Clear plastic return line from cylinder rod bearing to tank gives visual indication of need to repack cylinder and prevents fluid spillage in the event of a bypass.
Adjustable Flow Control
Pressure compensated flow control valve with lock out. Preset and locked at 10 F.P.M. maximum lowering speed per ANSI Standard MH29 where applicable.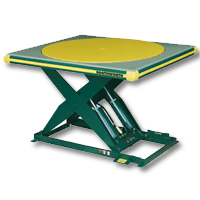 Wear Indicating Rollers and Roll Retainers
Rollers are captured in the base by means of retainers to prevent accidental separation or misalignment. All oversized width tabletops also include an upper set of retainers.