PalletPal® Stack-n-Go
When it comes to manually loading and unloading pallets, no one offers more tools to make the job faster, safer and easier than Southworth. Our PalletPal Level Loaders automatically lower or raise pallet loads as boxes are added or removed. A built-in turntable top allows all loading and unloading to be done from the near side. A Stack-n-Go Compact Power Driven Stacker is the perfect device for placing fully loaded pallets onto or
removing fully loaded pallets from a PalletPal.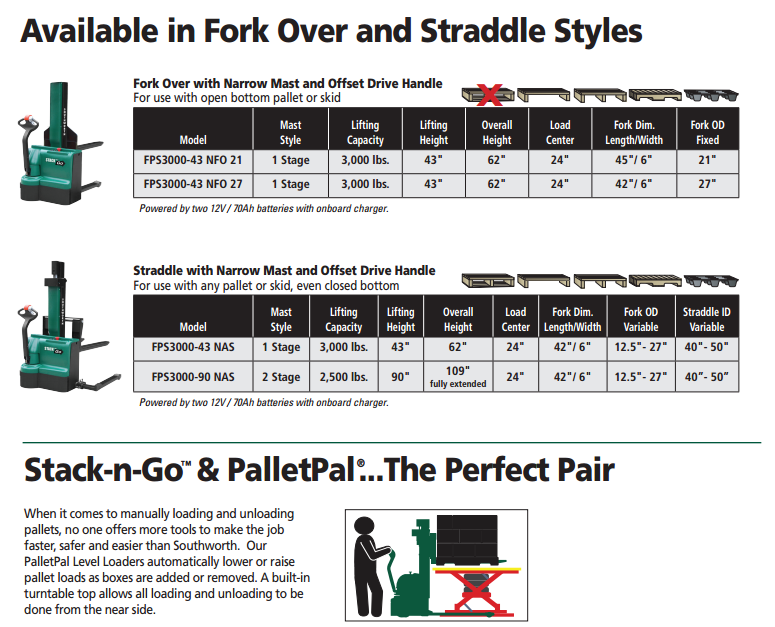 PalletPal® Stackers
Southworth stackers are much easier to integrate into your operation because unlike fork lifts that require trained, certified operators, anyone can use them. Their versatility makes them ideal for feeding pallet racks as well as any other pallet storage or transfer operations throughout the plant or warehouse. And because they are a Southworth product, your investment is secure and guaranteed.
Southworth manual stackers feature a rugged, ergonomic design. They are extremely simple to use, highly maneuverable and available in capacities up to 3,000 lbs. with lifting heights up to 80″.
Lift is achieved by simply pressing a push button that is integrated into the comfort grip handle. A convenient battery indicator gives charge status at a glance. The integral battery charger makes recharging a breeze.
*Other Fork O.D./Fork Lengths are available. Please inquire 1.866.261.0251
| | | | | | | | |
| --- | --- | --- | --- | --- | --- | --- | --- |
| Model | Capacity | Liftin Height | Load Center | Overall Length | Overall Raised Height | Fork W/L | Unit Weight w/o Battery |
| PML-22-63-ME(Fork Over) | 2,200 | 36″ | 24″ | 64″ | 52.5″ | 22″/45″ | 505 lbs |
| PML-30-36-ME(Fork Over) | 3,000 | 36″ | 24″ | 64″ | 52.5″ | 22″/45″ | 505 lbs |
| PML-22-47-ME(Fork Over) | 2,200 | 47″ | 24″ | 64″ | 60″ | 22″/45″ | 535 lbs |
| PML-30-47-ME(Fork Over) | 3,000 | 47″ | 24″ | 64″ | 60″ | 22″/45″ | 535 lbs |
| PML-22-63-ME(Fork Over) | 2,200 | 63″ | 24″ | 64″ | 76″ | 22″/45″ | 550 lbs |
| PML-30-63-ME(Fork Over) | 3,000 | 63″ | 24″ | 64″ | 76″ | 22″/45″ | 550 lbs |
| PML-22-80-ME(Fork Over) | 2,200 | 80″ | 24″ | 64.38″ | 98″ | 22″/45″ | 675 lbs |
| PMLS-22-35-ME(Straddle) | 2,200 | 35″ | 24″ | 63″ | 52.5″ | 14-31″/42″ | 515 lbs |
| PMLS-30-35-ME(Straddle) | 3,000 | 35″ | 24″ | 66″ | 52.5″ | 14-31″/42″ | 515 lbs |
| PMLS-22-46-ME(Straddle) | 2,200 | 46″ | 24″ | 63″ | 60″ | 14-31″/42″ | 535 lbs |
| PMLS-30-46-ME(Straddle) | 3,000 | 46″ | 24″ | 66″ | 60″ | 14-31″/42″ | 535 lbs |
| PMLS-22-62-ME(Straddle) | 2,200 | 62″ | 24″ | 63″ | 76″ | 14-31″/42″ | 550 lbs |
| PMLS-30-62-ME(Straddle) | 3,000 | 62″ | 24″ | 66″ | 76″ | 14-31″/42″ | 550 lbs |
| PMLS-22-79-ME(Straddle) | 2,200 | 79″ | 24″ | 63.5″ | 98″ | 14-31″/42″ | 675 lbs |