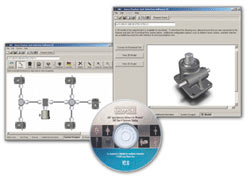 As the Canadian distributor for Joyce®/Dayton, Trans-Quip Inc. is your source for Power Transmission Products including Screw Jacks, Linear Actuators, Electric Cylinders, Systems and Accessories.
We'll help you select the best products for your application and provide complimentary systems engineering assistance. We'll also provide Jack modifications upon request. Working with a deadline? We can often provide the product you need in as little as 24 hours.
Did you know that you can reduce design costs, accelerate time to market and ensure the accuracy of your designs? With Joyce's interactive 3D modeling you can now configure, view online and download 3D models of Joyce/Dayton products directly into your designs.
It's easy too. Simply select a jack category to access the basic model, configure the model in real time and download the model for inclusion in your CAD drawing. The interactive 3D Models are created with SolidWorks™ 3D PartStream modeling program.
The program uses simple pull-down menus to guide you through design options that include all existing jack configurations. You can rotate, zoom and pan the model to make it easy to visualize accurately how the product will work in your designs. Plus, 3D models and 2D drawings can be quickly downloaded in over 25 industry standard CAD formats, including AutoCAD®, Mechanical Desktop® and Autodesk Inventor™.
For even greater productivity help, download Joyce's industry-leading JAX® V2.0 linear motion design software or contact Trans-Quip Inc. and we'll send you the CD version.