PalletPal® Disc Turntable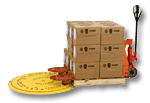 Low profile design, less than 1″ high, allows this handy turntable to be loaded by a hand pallet truck. By rotating the load the operator always works from the near side without having to walk around the load. The risk of injury from reaching and stretching is virtually eliminated. The turntable can be easily moved throughout the plant.
| | | | | |
| --- | --- | --- | --- | --- |
| Model | Capacity | Turntable Height | Turntable Diameter | Max. Load Dimensions |
| SW-DTT | 4,000 lbs | 7/8″ | 43 3/8″ | 48 ¾" |
PalletPal® Flush Mount Turntable Lifts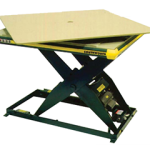 The built-in turntable is essentially flush to the table top in a clean, uncluttered design. The turntable bearings and support are under the platform and do not substantially increase the lowered height over that of comparable lifts without turntables. The turntable sits only 3⁄16″ higher than the
surrounding platform and is rotationally locked when the lift is in the full down position. Flush Mount turntable lifts are available in standard Southworth Backsaver Lift capacities to 4000 lbs. Turntables are available in 2 sizes; 20" and 43" diameter and are fitted into a limited number of platform
sizes. The 43" diameter model can even be pit mounted. Available in power driven or manual configurations.