PalletPal® Mobile Leveler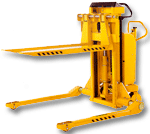 Perform multiple functions with one versatile machine. Use it by itself as a mobile pallet positioner or as the perfect companion to feed your other PalletPals. As a transporter it moves effortlessly throughout the plant. It's a lot less expensive than a ride on a fork lift and it doesn't require special training or certification to use.
Extra rugged construction
Low mast for improved visibility
Dual wheel steering for optimum manueverability
Manual or Electric Lift
Internal battery charger and battery discharge indicator
Ergonomic contoured handle and group controls for operator convenience
Locking hand brake
Fork-Over Design: For open bottom pallets and skids.
Straddle Design: For any type of pallet style including closed bottom.
| | | | | | |
| --- | --- | --- | --- | --- | --- |
| Model | Capacity | Drive | Lift | Raised Height | Fork Width |
| PML-30-ME | 3,000 lbs | Manual (push) | Electric (pushbutton) | 36″ | 22″ |
| PMLS-30-ME | 3,000 lbs | Manual (push) | Electric (pushbutton) | 35″ | 14″ – 31″ user adjustable |