Adjustable Straddle Frame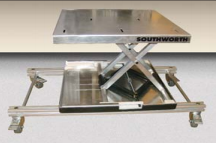 Designed to support the Lift-Tool in applications where placing directly on a surface would not be possible. Typical uses include
cabinet and appliance installation over ranges, sinks, etc.
Turntable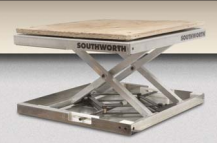 Can be mounted on top of Lift-Tool allowing work to be rotated for ease of access or underneath the Lift-Tool allowing the entire unit to spin.
Assembly Easel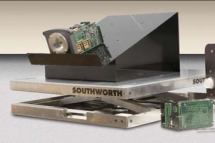 Presents and positions work at 25° allowing more
comfortable access. Can be mounted to turntable.
Other Lift-Tool Uses…
There's never been such a versatile tool. Every day, Lift-Tool owners find new and interesting ways to use the Lift-Tool to make work faster, safer, and easier.
Here are just a few.
• Electronics Assembly
• Quality Control/Inspection
• Packaging
• Finishing
• Bulky Installation
• Crafts and Hobbies
• and Many More
Capacity: 300 lbs.
Lowered Height: 31⁄2 "
Raised Height: 31⁄2 "
Platform: 173⁄4 "
Size: 22″ x 23″
Weight: 32 lbs