Joyce/Dayton Electric Cylinders are designed for use in industrial environments where protection of the lifting screw mechanism is critical and low maintenance is desirable. Requiring only electric power, Joyce® Electric Cylinders may also be used in place of hydraulic cylinders, eliminating the cost and potential for leaks associated with hydraulic systems.
Joyce offers three Electric Cylinder models: Standard, Motor Mount and ComDRIVE®.
Electric Cylinders utilize the same drive housings offered on our rugged Acme (machine) Screw and Ball Screw Jacks. They are manufactured in five sizes from 2.5 to 20 ton static capacity. Electric Cylinders can achieve speeds up to 546 inches per minute and raise loads up to 100 inches.
Standard

Intended for applications where the customer provides their own drive motor and coupling
Design can also be used where one or more Electric Cylinders are being driven by one common drive motor or in combination with the Motor Mount or ComDRIVE® models listed below
---
Motor Mount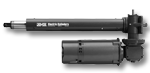 Intended for higher-speed applications
Can be used in conjunction with one or more of the standard electric cylinders shown above
Standard motors are 3 phase, 23/460 volt, 60 hertz, and 1750 rpm
---
ComDRIVE®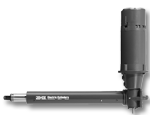 Models include a right angle gear motor mounted to the right or left hand size of the standard model
ComDRIVEs are intended for applications requiring heavy lifting capacities at speeds up to 34 inches per minute (acme screw) and 104 IPM (ball screw)
ComDRIVE® models can be used in conjunction with one or more of the standard electric cylinders shown above
---
All Joyce Electric Cylinders incorporate the following features and benefits:
Ground and hard-chrome plated inner cylinder tube resists harsh contaminants while providing smooth cylinder translation
Dual lip tube seals retain lubrication while preventing dirt and grime from entering the internal cavity and contaminating the lifting screw
Durable enamel coated exterior surfaces (epoxy coating available)
Rigid cylinder tube guide bearings provide resistance to buckling (external guides are required when side loads are present)
Heat treated alloy steel input shafts riding on tapered roller bearings provide proper worm-gear alignment for increased service life
Spring-loaded input shaft seals prevent the loss of lubrication
Aluminum-bronze worm-gear rides on high quality tapered roller or ball thrust bearings