Available in machine and ball screw designs these heavy-duty actuators can handle loads of up to 2,000 pounds. Joyce actuators are offered in two distinct versions – Motorized and Integrated. All Joyce Motorized and Integrated Actuators are designed for long service life and have been tested at full capacity for thousands of cycles to ensure trouble free operation. The lifting mechanisms consist of either a high tensile aluminum-bronze lifting nut or heat-treated ball nut connected to a heavy wall stainless steel lifting tube. The actuator housings are cast from rugged yet lightweight aluminum and include a cast mounting clevis or clevis option.
1500 lbs. AC and DC Motorized Actuator Models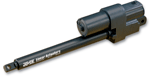 Double Clevis Mounting
Standard Travels of 3", 6", 12", 18" & 24"
Double Lead Machine Screw
Cast Aluminum Housing
Stainless Steel Lifting Tube
Spring Type Brake
Temperature Range of -20° to + 104°F
Limit Switch Available
AC Models are 115 Volt
DC Models are 12 Volt
Load Limiting Slip Clutch Available (DC Only)
Limit Switch w/10 Turn Potentiometer (AC Only)
Lifting Tube Restraining Torque 190 in-lbs.
Trunnion Mount
AC Extend/Retract Actuator Controller
DC Extend/Retract Actuator Controller
Threaded Screw End
---
100 – 2,000 lbs. Integrated Motorized Actuator Models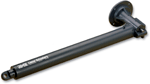 Integrated NEMA 56C Motor Flange
Standard Travels of 6", 12", 18" & 24"
(8) Machine Screw Models
(6) Ball Screw Models
Traveling Nut and Translating Tube Versions
Ball Screws in .250" & 1.000" Lead
Worm Gear Drives in 5:1 & 20:1 Ratios
Stainless Steel Lifting Tube
Bolt Pattern for Standard Hydraulic Mounts
Lift Speeds up to 345 Inches per Minute
Limit Switch Available
AC, DC and Air Motors Available
Clevis Accessories
AC, DC, and Air Motors
Limit Switches
Custom Travel Lengths
Linear Actuator Accessories
Includes limit switches, motors, and clevis accessories
Linear Actuator Control Packages
Control packages are available. Please inquire.